Giostra del Saracino (Saracen Joust)
< Back to list
This ancient chivalric game, held in June and again in September in Arezzo's Piazza Grande square, is a medieval tradition that was restored in 1931. The four quarters into which Arezzo is divided (Porta Sant'Andrea, Porta Crucifera, Porta San Lorentino and Porta Santo Spirito) compete for the grand prize - the golden lance, a true work of art dedicated each edition to illustrious Aretine writers, painters and personages. Each golden lance is a unique piece that the quarters conserve in their headquarters, which can be visited all year long.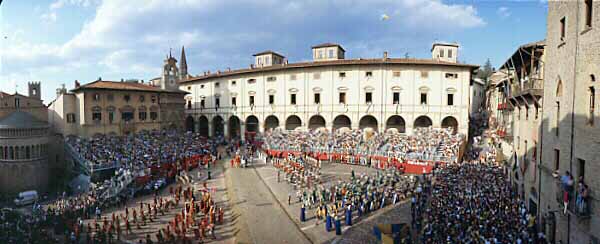 The joust takes place on a sloping track in the Piazza Grande, which assumes its medieval appearance. Two riders per quarter challenge the Saracen dummy with their lance in two charges each. The victory goes to the quarter totalling the most points gained by striking the target board on the Saracen's shield.
The week leading up to the Saracen Joust is rich in events. The headquarters of the four quarters propose new programs each year, with evenings of music and cabaret that culminate in the propitiatory dinner on the eve of the joust - a feast aimed at favouring the victory of their riders, open to all residents and tourists.
At about 11:00 on the morning of the Joust, the historical procession parades around the streets of Arezzo and the Herald reads the proclamation of the challenge, calling the citizens of Arezzo to arms. The second procession in the afternoon is the parade of the quarters through the streets of the centre and the entrance into Piazza Grande.
In June the Joust is held at night on the third Saturday of the month (16 June 2012), while in September it takes place in the afternoon on the first Sunday of the month (2 September 2012).
For further information, visit the site of the Saracen Joust http://www.giostradelsaracino.arezzo.it/
< Back to list