Castiglion Fiorentino's Palio dei Rioni horse race
< Back to list
The Palio dei Rioni horse race takes place in Castiglion Fiorentino's Piazza Garibaldi on the third Sunday of June every year. This re-enactment of a medieval festival pits the town's three quarters against each other: Rione Cassero, Porta Fiorentina and Porta Romana.
At the starter's signal, the mounted horses gallop around the oval dirt track four times, striving to be the first across the finish line. Before the race, the town fills with coloured banners and flags, and the parties in each quarter shouldn't be missed.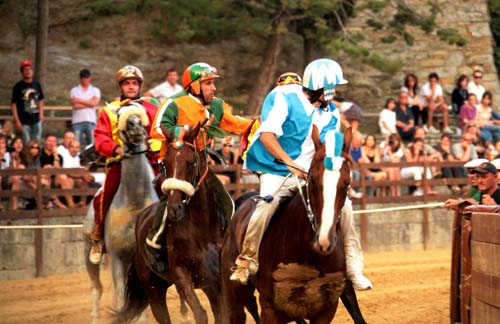 For some years, the Rione Cassero quarter has organized the "Biancoazzurra" medieval festival (named after its traditional white and blue colours) on the last weekend of May and first one of June. A medieval village is set up at the base of the fortress tower, with taverns, jugglers, acrobats, fire-eaters and other street performers coming from all over Italy.
On the last Saturday of May, the Porta Fiorentina quarter holds a medieval banquet in the cloister of San Francesco – a dinner of medieval dishes with minstrels and musical and dance shows.
For further information, visit the Palio dei Rioni site
http://www.comune.castiglionfiorentino.ar.it/palio_terzieri.asp
< Back to list