Cortona and Lake Trasimeno
< Back to list
A visit to Umbria, passing through Cortona, involves an itinerary of around 40 kilometres – a day trip of absolute relaxation.
Cortona is only 20 kilometres from Poggio al Vento, and to reach the town you pass through the countryside of the Val di Chiana. Cortona combines its Etruscan origin with its medieval and Catholic influences. The visit starts below the town itself, at Melone I and II, the Etruscan tombs discovered at the beginning of the 20th century at the foot of the hill on which Cortona sits; after climbing the hill, you can visit the Le Celle Convent founded by Francis of Assisi in 1211. In Cortona itself, you should visit the church of San Niccolò, the Cathedral, the Town Hall, the Diocesan Museum and the Museum of the Etruscan Academy in the Casali Palace. The Etruscan Academy Museum combines all Cortona's identities (Etruscan, Roman and medieval) and also hosts important works by the Renaissance painter Luca Signorelli and the Futurist Gino Severini. Cortona is also ideal for shopping, with numerous artisan's shops.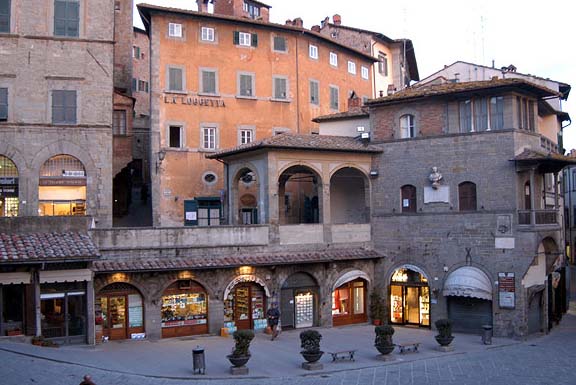 On a clear day, the view from Cortona's walls includes Lake Trasimeno and the second stop on the itinerary – Castiglione del Lago, only 18 kilometres from Cortona. Lake Trasimeno is the blue heart of the green Umbrian-Tuscan countryside and with its islands in the distance is the best place for an afternoon stroll. The town of Castiglione del Lago is a medieval fortress with the Ducal Palace and the four-towered Fortress with triangular 30-m high keep. In early April, Castiglione del Lago is awash with colour when it hosts the Tulip Festival, with its parade of flower-adorned floats. The banks of the lake are the ideal place to have lunch, with many restaurants offering dishes based on lake and sea fishes; the Umbrian specialties are especially worth tasting.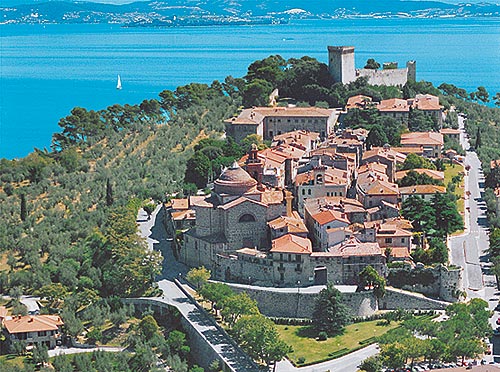 Itineraries and travel times by car:
From Poggio al Vento, take the Arezzo-Foiano road (SS327) past Foiano della Chiana and continue on SP28 to Cortona.
From Cortona, take SS71 for Castiglione del Lago.
Upon returning from Castiglione del Lago, take the Bettolle-Perugia motorway and exit at Foiano della Chiana, continuing on to Pozzo della Chiana.
< Back to list